I'm reading a book I was recently given called "
One Thousand Gifts
" by
Ann Voskamp
. I'm not finding this book particularly easy to read due to its poetry-prose style. I have to slow down to read it, and maybe that's not such a bad thing.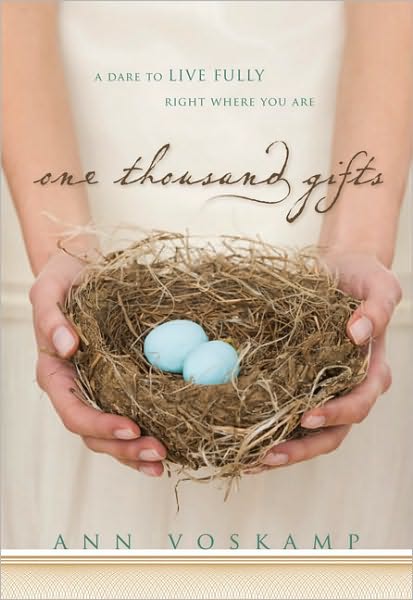 And even if I don't like the writing style, I certainly am finding the point of the book to be meaningful. In a nutshell: giving thanks to God "solves" a lot of our spiritual, emotional, and social problems because thanks in one's heart means there's little room for anger, worry, fear, pride, etc.
I'm only half way through the book, but I'm determined to finish it soon. I've seen other bloggers do it and I will too: use this space to list 1000 gifts from God that I'm thankful for.*
a month to give thanks
a warm, safe, comfortable place to sleep
too much food in my freezer
fall sunshine--not too hot, not too cold
fall flowers reviving after a hot summer
a peaceful evening
the sparrows have returned
green grass after a dry summer
the internet
the world's two cutest grandbabies
a hot shower to ease away a headache
leftover pumpkin pie
the Bible in a language I can understand
toast and butter
technology to help Gary read
IRL friends
internet friends
green cat eyes
my commissioned portrait
the family who liked #19
people who like their job
afternoon sun through the bedroom window
fall birds finding my backyard feeders
being invited to a business dinner
high-speed internet
clean kitchen floor
half-time job
leftover zucchini cake
God's provision in so many ways
people who listen
people who care
picking up with old friends many years later
the crows' antics with pecans
a little time to read
*Big and little, important and insignificant, immediate and eternal--there are no real rules on what can or cannot go on this list--just that I am thankful to God for them.